It is Your Symphony Orchestra
We love our Orchestra and we want you to know
that it's your community Orchestra, too!
With a few exceptions, the Port Angeles Symphony Orchestra is a volunteer organization. Most of the musicians, Board of Directors, Friends of the Symphony, and members Guild donate their time, expertise, and effort to present the award-winning programs, which do so much to contribute to the high quality of life on the North Olympic Peninsula.

Even with all of our volunteers, there are numerous production costs associated with our performances: music and auditorium rentals, printing and postage, costs associated with maintaining our business office, as well as personnel costs for our staff (click here for list of staff members.)
The pie chart shows the percent of each source of Symphony revenue. What surprises many is that our ticket sales contribute only 34% of our total revenue. This figure is in line with other orchestras across the country and is the reason individuals of a wide range of income levels have access to the cultural enrichment provided by quality symphonic music.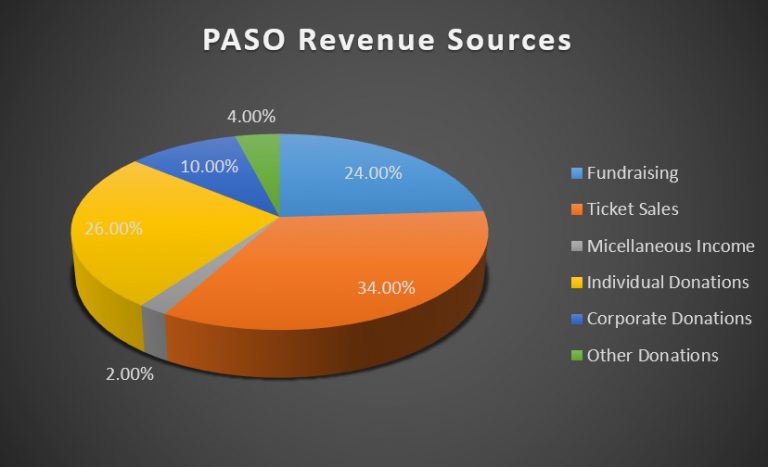 Next to ticket sales, the largest source of our revenue comes from individual donations, followed by your generous support for our fundraising activities. Without our donors to contribute funds and support our fundraising events, there would be no music.
Many ways to Donate!
Become a Volunteer!
Join the Symphony Guild!
The Port Angeles Symphony Orchestra is a charitable organization organized under section 501(c)(3) of the Internal Revenue Code.
We would love to hear from you.
Get in touch